Some of the most challenging blogs I've written on Steemit have been about science. Usually I pick a topic with which I have passing familiarity. Then I hit the books (or Google Scholar) and study. This was the case with the blog I'm posting today. I think it turned out rather well. At least I achieved what I set out to do. I hope at least few people read this blog, and enjoy it.
---
---
Science advances not as much from the work of individuals as it does from collaboration. Isaac Newton once said, in homage to his antecedents, "If I see further, it is by standing on the shoulders of giants".
---
Democritus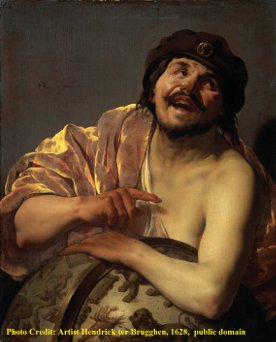 (Public Domain picture)
---
Democritus (460-370 BC) is considered to be one of the first 'atomists'. He postulated the existence of a basic unit of matter, and called it 'atomos'. Many centuries later, in the nineteenth century, John Dalton, (the "Father of Chemistry",) proposed a remarkably similar concept of the atom–and he used the word 'atom' to describe what he envisioned.
---
And yet, despite the presumed collegiality between scientists, there have been squabbles–downright feuds–throughout history about sharing information and receiving credit for breakthroughs. These disagreements have stained the records of more than one luminary. What are the rules of scholarship in science? How does one share and not encroach?
Louis Pasteur, and the Hunger for Recognition
Louis Pasteur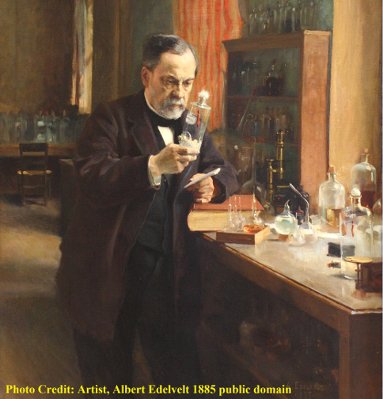 Public domain picture
Louis Pasteur's name is probably one of the most recognizable in science. We're all familiar with Pasteurization. The rabies and anthrax vaccines–these are both credited to Pasteur. However, there seems to be another, less well-known side to this scientist's biography.
---
In 1995 a Princeton University professor, Dr. Gerald I. Geison, published a book in which he described Pasteur as having a less than collegial approach toward scholarship. According to Geison, when Pasteur claimed credit for developing the anthrax vaccine, he was actually appropriating the research of a competitor, Jean-Joseph Toussaint.
Pasteur, Shown with a Rabid Dog and a Vial of Rabies Vaccine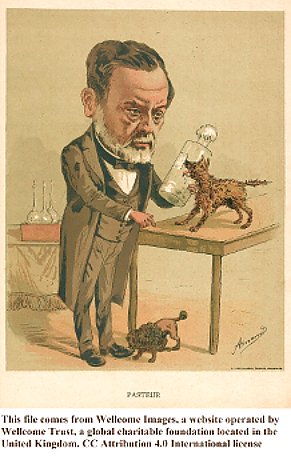 This file comes from Wellcome Images, a website operated by Wellcome Trust, a global charitable foundation based in the United Kingdom. Used under a CC 4.0 International license
One of Pasteur's more discrediting rushes toward fame was his use of the rabies vaccine on nine-year-old Joseph Meister. Joseph had been bitten by a rabid dog. The parents begged Pasteur to use the vaccine, as yet untested on humans. Pasteur assured them that the vaccine he was about to use had been tested on many dogs. He lied. His notes reveal that a similar vaccine had been tested but not the one he used on Joseph. Everything worked out fine, but Joseph Meister and his parents were unwitting allies in Pasteur's ambition to be first.
---
In The Subjectivity of Scientists and the Beysian Approach, authors James Press and Judith Tenur, explain that Pasteur wanted to be credited with priority in his work. In the science community, priority means being first. It means that the scientist has made an original, unique contribution. Being first means that a scientist will be mentioned in history books, and will win prizes.
---
Discovering the Structure of DNA
---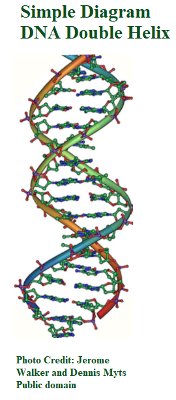 The issue of priority was at the heart of one of the most consequential scientific advances of the twentieth century: the 'discovery' of the double helix, the structure of DNA. History shows that one photo provided the final key to unraveling the secret of DNA's structure. Who took that photo? Who owned the rights to that picture? How did Watson and Crick–credited with unraveling the secret of DNA's structure–get their hands on this very consequential photo? Who ultimately deserved credit for being 'first'?
---
---
---
---
Before this historic photo was produced, theories about the possible structure of DNA abounded. Several researchers were exquisitely close to solving the puzzle. The image in the photo–characterized ever after as Photo 51–was captured by using highly specialized technology, x-ray crystallography.
A review of the drama surrounding Photo 51 offers some insight into the issues of priority, attribution, and shared knowledge.
---
---
Photo 51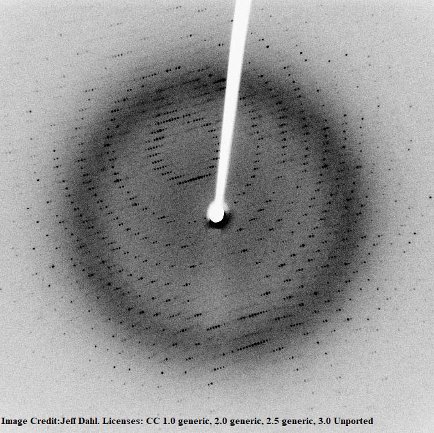 Credit Jeff Dahl. CC 3.0 Unported license
This is actually not Photo 51, but the image does show the kind of impression that can be captured through x-ray crystallography. What this picture shows is the x-ray diffraction pattern of a SARS enzyme. I cannot show you the original Photo 51 here because it is copyright protected. However, follow this link and you can view the famous photo.
The story of Photo 51 illustrates the tension that can and does arise between scientists sometimes in the race to achieve priority.
---
The Drama
---
The setting for the drama was England, in two research centers: Kings College and Cambridge University. The players: Francis Crick, Rosalind Franklin, Raymond Gosling, James Watson and Maurice Wilkins.
Cambridge and Kings College are so close to each other, that it's no surprise some of these researchers had worked together. However, the critical link between Cambridge and Kings College in the instance of Photo 51 turned out to be Maurice Wilkins, who worked with Rosalind Franklin at Kings, and then moved over to Cambridge, where he worked with James Watson and Francis Crick.
---
Maurice Wilkins, With an X-Ray Diffraction Camera He Developed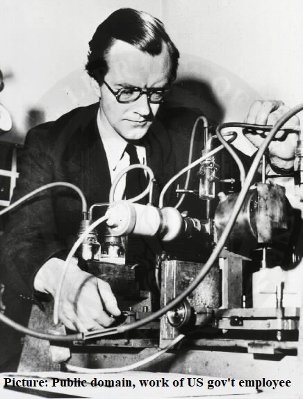 Public Domain photo: US gov't
---
As I read through the obituaries of the various personalities in this story, different versions of the events were presented. However, one element was unavoidable, at least in the bios of several: the urge to get credit, to be first, was a prime motivation.
Here's the broad outline of events: Wilkins was a researcher at Kings College, where he worked at perfecting x-ray diffraction in the hope of unraveling the mystery of DNA. During Wilkins' tenure, Franklin was taken on to work in the same area of research. Gosling, a PhD student, was assigned to be Franklin's assistant. Together, Franklin and Gosling, using x-ray crystallography, captured a clear, long–sought image of DNA–the historic Photo 51. This image revealed, indisputably, the double-helix structure. It was actually Gosling who took the picture.
---
Rosalind Franklin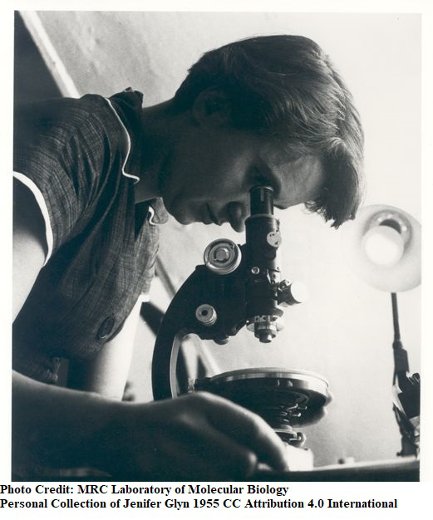 MRC Laboratory of Molecular Biology: CC 4.0 International license
---
This very important photo came into Wilkins' possession. He recognized its significance. Without telling Franklin or Gosling (this part is undisputed), he brought Photo 51 to Watson and Crick. This gave them the missing piece to the puzzle they had been working on. They published their findings: a description of DNA's double-helix structure. Neither Watson nor Crick attributed the photo to Franklin. Neither did Wilkins.
Watson, Crick and Wilkins eventually shared the 1962 Nobel Prize in Physiology or Medicine. None of them mentioned Franklin, or Gosling. Not until Watson published his memoir, The Double Helix did Rosalind Franklin become known to the public. And that only happened because Watson's portrayal of her in his book was so mean-spirited that it drew criticism from colleagues, including Crick and Wilkins. As a matter of fact, there were such strong objections to the book that Harvard University Press, which had originally agreed to publish, declined.
After the role of Franklin, and to a lesser extent, Gosling, became known, a London stage play and TV series were created based on the story.
---
Raymond Gosling, in His Later Years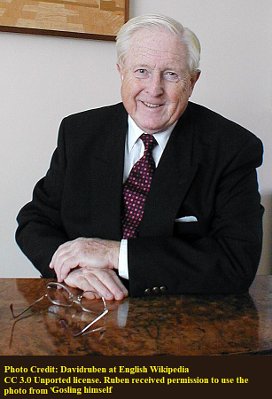 David Ruben, CC 3.0 Unported license
Raymond Gosling went on to have a distinguished career in medicine and was credited with making significant contributions to the field of diagnostic radiology.
---
While the outline of events surrounding Photo 51 seem clear, the story gets ambiguous in parts. Where does an idea originate? Who has the right to the results of research? Was it Wilkins' ideas and research that enabled Franklin to take Photo 51? Were earlier photos that he took progenitors of Franklin's photo? Was Wilkins entitled to Franklin's photo because he had been working in the same research facility on the same technology (radioactive crystallography) that gave rise to it?
There's another piece to this drama that adds to puzzlement over Watson's role.
It turns out that Watson had attended a lecture given by Franklin, at which she described her work and her interpretation of the images she had captured. Later on, Watson said he hadn't paid attention during the lecture.
---
James Watson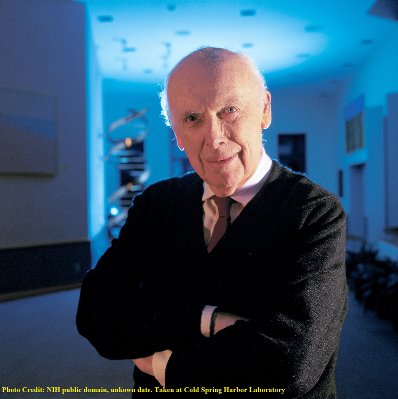 National Institutes of Health Photo: public domain
While he has been the target of much criticism in his life, not only for the Franklin affair but also for charges of racism, he has also been willing to stand on principle. While at Cold Spring Harbor (NY, USA) he resisted the policy of patenting the human genome. He believed that the human genome belonged to the people of the world, and not to nations. He lost his post at the laboratory over this issue.
Science as a Collaborative Discipline and the Issue of Priority
---
---
Throughout history, the urge to be first has spurred research. This was true when the Curies were investigating radioactivity. It was a time of great excitement and activity in science. Within the span of a few years, Roentgen, Becquerel and the Curies all investigated and worked on the mystery of radiation. They learned from each other's work and each strove to be the first to make a breakthrough. Ultimately, the Curies ended up sharing their 1903 Nobel Prize in physics with Becquerel.
---
---
---
Priority
In what is considered a classic paper on priority Robert Merton analyzes the sociology of science. Merton states that "Science, with its emphasis on originality, and its assigning of large awards for originality, makes recognition of priority uppermost." He explains that, unlike in other areas of ownership, once a scientist has shared knowledge, the scientist no longer owns it, so that "property rights get whittled down to just one thing: recognition." Merton concludes that because a scientist's only property rights, in the end, are focused on this one reward, recognition, the importance of priority becomes paramount, and even distorted.
---
Galileo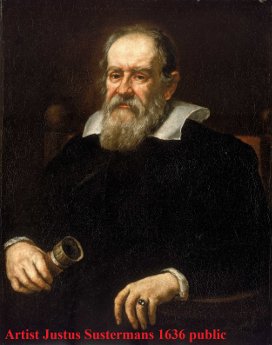 Public domain: 1640
A famous argument over priority arose between Galileo and a Jesuit priest, Christoph Scheiner. Each claimed to have been the first to discover sun spots. Some historians believe this dispute added to Galileo's difficulties with the Catholic Church.
---
Patents, Copyrights and Open Source
---
Distinctions Between Science, Commercial Research and Open Source
In an era when living organisms have been patented, it's a tricky business separating science scholarship from commercial endeavors. An organization, the IEEE tries to do just that. In a paper entitled, "Patents and Scientific Papers: Quite Different Concepts", the IEEE describes scholarship that leads to copyright and trademark as being motivated by a desire to conceal, whereas pure science scholarship strives to explain everything clearly. Another distinction the organization makes is this: patent and copyright endeavors tend to be "greedy", while pure science endeavors tend to be "generous". If we think about the many battles throughout history over priority, we might view these distinctions as not exactly precise.
A less ambiguous distinction might be found between the open source movement, and the other two areas of endeavor. Open source authors seek neither priority nor compensation. Their contributions are often anonymous. For example, all the blogs I write for Steemit, are drafted in an open source program, Open Office. I've no idea to whom I owe a debt for this great service. And, when I format pictures, I use GIMP, another open source program. My benefactors, once again, are unknown to me. Open source culture not only allows me to research and function without cost, but it also allows me to share what I discover.
According to opensource.com, the open source movement began at MIT in the 1970s when a programmer, Richard Stallman, found he did not have access to essential software to fix a malfunctioning printer. The open source culture is motivated by intellectual growth and sharing.
Conclusion
---
---

---
Please Note: all images are either in the public domain or are CC licensed. The label for each is on the photo itself, and also added underneath. Can't be too careful 🙂
---
---
Obituaries (As of this writing, James Watson is still alive)
---
Maurice Wilkins
https://www.nature.com/articles/431922a
Francis Crick
https://www.nytimes.com/2004/07/30/us/francis-crick-co-discoverer-of-dna-dies-at-
Raymond Gosling
htmlhttps://www.telegraph.co.uk/news/obituaries/11624246/Professor-Raymond-Gosling-DNA-scientist-obituary.html
Rosalind Franklin
https://www.nature.com/articles/182154a0.pdf
---
Some Other Sources Used in Writing this Blog
https://www.americanscientist.org/article/on-the-shoulders-of-giants
https://www.iep.utm.edu/democrit/
https://plato.stanford.edu/entries/democritus
https://www.britannica.com/biography/John-Dalton/Atomic-theory
https://www.sciencehistory.org/distillations/magazine/the-lingering-heat-over-pasteurized-milk
https://www.the-scientist.com/foundations/the-rabies-vaccine-backstory-33441
http://www.strevens.org/research/scistruc/prioritas.shtml
http://blog.wellcomelibrary.org/2015/09/the-story-of-photograph-51/)
https://www.theguardian.com/science/2012/jan/20/double-helix-james-watson-review
https://wellcome.ac.uk/press-release/francis-cricks-controversial-archive-first-public-display
https://www.hollywoodreporter.com/review/nicole-kidman-photograph-51-theater-823204
https://www.pbs.org/wgbh/nova/photo51/
http://www.dnaftb.org/19/bio-3.html
https://www.smithsonianmag.com/smart-news/dna-pioneer-james-watson-loses-honorary-titles-over-racist-comments-180971266/
https://www.nobelprize.org/prizes/themes/marie-and-pierre-curie-and-the-discovery-of-polonium-and-radium/)
https://www2.hao.ucar.edu/Education/FamousSolarPhysicists/christoph-scheiner
http://www.lawinfowire.com/articleinfo/patents-living-organisms
https://www.ieee.org/about/index.html
https://opensource.com/article/18/2/pivotal-moments-history-open-source