Yesterday I promised to blog more on WordPress, and so here I am, with another blog that I posted on Steemit a couple of months ago.
Steem is a crytpocurrency, and Steemit is the social networking platform that uses Steem as a form of rewards. That's a nice incentive to blog, but as you can see from the post below, I put far more effort into my blogs on Steemit than the small reward merits. This post was written for one of the many contests that you can find on the Steemit platform. The contest is very special for me, because I'm not an artist and yet I get to play around with art. The name of the contest is Let's Make a Collage (LMAC). Each week (most weeks, anyway) the contest sponsor, @shaka gives the community an original photo to play with. Out of that photo we are supposed to make a collage, using only copyright-free elements. Most of the people who participate are graphic artists. Not me. I failed art in the eighth grade, but @shaka welcomes my participation anyway.
Without further ado, please enjoy (!) my evident enthusiasm below. If you follow the link, you can see what others did in this edition of LMAC.
---
Garden of Magic and Wonder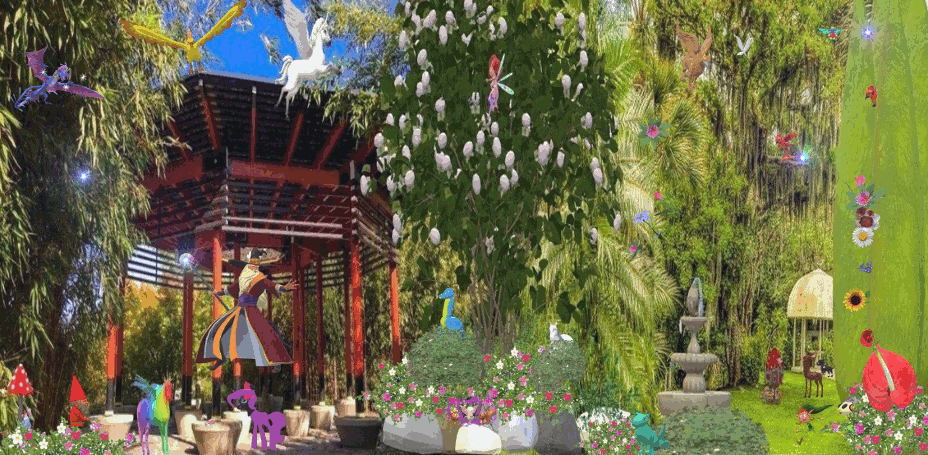 ---
This is the photo @shaka gave us to work with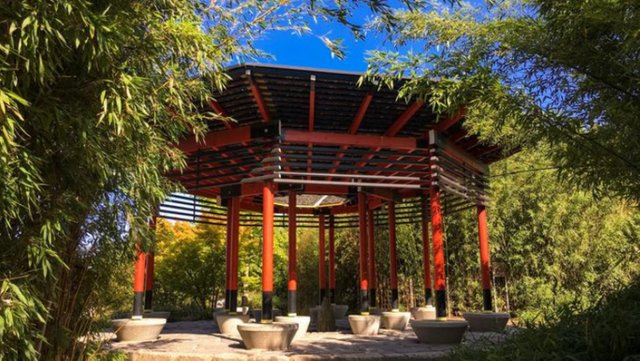 ---
---
When I began to imagine ideas that might work in this picture, I recalled the early sixteenth-century triptych, Garden of Earthly Delights, by Hieronymus Bosch. Every inch of Bosch's painting is filled with phantasmagorical details. The three panels that make up the piece tell a story: creation, fall from grace, and damnation.
---

The Garden of Earthly Delights

Heronimus Bosch
Panel One, Upper Left Portion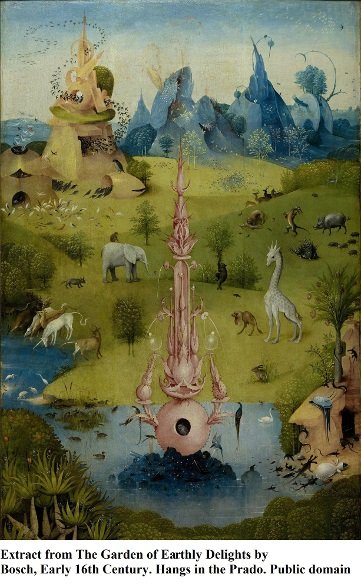 Here we see the Garden of Eden. This is only the upper half of Panel One. The lower half shows God introducing Adam to Even. The theme is innocence. Light and beauty prevail.
---
---
Panel Two
Once again, only the upper portion of the panel is shown here. This is the largest of the three panels. Bosch does not spare us. He shows humanity depraved, insatiable, consumed by vice. Confusion and corruption prevail.
---
---
Panel Three
---
---
When I look at this panel (only the upper portion is shown here) I think of Dante's Inferno. This is hell. It seems the damned are consumed by the appetites that drove them in life. Hell's residents prey upon each other. Darkness and chaos prevail.
One well-known image from the lower portion of this panel is of a pig wearing a nun's veil.
---
---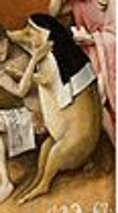 ---
---
Trivia
---
---
Source for the following information is My Modern Met
The Painting
7′ by 13′
Oil on oak
The Artist
Year of birth is uncertain, although it is known he lived in the late 15th and early 16th centuries.
He was born in the Netherlands
About twenty-five of his pictures remain.
He was well-known in his lifetime.
None of his writings have survived, so art critics can only guess at the meaning of his art.
---
---
---
My collage took shape in these steps: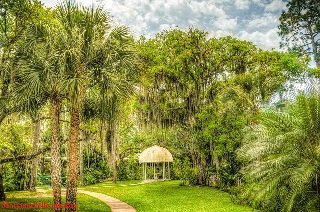 I downloaded a picture from Pixabay (credit: mariamichelle).


and connected that picture to @shaka's.

Then I went to Paint 3d and looked for greenery and magical images.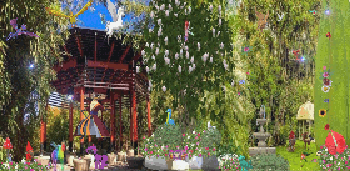 Finally, I took that blended picture and headed over to GIMP, where I added lighting effects, and turned the whole thing into a GIF.

---
---